The man hailed as the saviour of rock and roll opens up about fatherhood, sobriety, a solo career and the return of The Strokes.
When they first entered the public consciousness in 2001, the Strokes would've been the last band anyone would've pegged for longevity. Even reviewers who couldn't stop praising their music often noted that the band wouldn't last for more than a few years (at most). Julian Casablancas, Fabrizio "Fab" Moretti, Nick Valensi, Nikolai Fraiture and Albert Hammond, Jr. however, have proved each one of their critics wrong by not only being commercially successful, but also critically acclaimed from
The Modern Age
(2001) to
Angles
(2011).
The promotional tour for The Strokes' third album,
First Impressions of Earth
brought two surprises to fans. The first was when
Casablancas announced his engagement while performing in Central Park. "I'm getting married...and it's hard to explain!" He said before he started singing Hard To Explain.
Many a teenage girls cried that night. The second surprise came at the end of the tour when
the band's manager, Ryan Gentles, announced that the band would be going on hiatus
. The world was stunned.
As the years passed and the members pursued solo projects, the fate of The Strokes became unclear. But The Strokes are finally back and even though it may seem impossible, even better than they were before! I got a rare glimpse into the usually media-shy, elusive lead singer, Julian Casablancas' life.
"I've finally found stability,"
he says, quietly when the topic of his long gone, sloppy, all-night sessions at downtown dive bars comes up. Back in 2001, it was not an uncommon sight to find Casablancas and co. stumbling out of bars at 5 AM but today, Casablancas is a different man. He quit drinking in 2005, when he got married. "I'm not going to lie, drinking is a lot of fun for me...but what follows isn't. At one point, I was drinking so much that my life was just one big hangover. My writing was suffering and that was just not acceptable. I felt like I couldn't have fun if I wasn't drinking. And that couldn't go on. I was married now and in a good place professionally, I wanted to be able to enjoy it and remember everything as more than just a blur."
When the band broke out in 2001, everyone and their grandparents fell in love with these five boys. They drank, they smoked, they put on the best live rock shows, they dressed and acted like rockstars. It was perfect...except everyone knew that these lifestyles don't usually end well. However, they defied the 'rockstar lifestyle' rules.
On February 5, 2005, at the young age of 26, Julian married the band's former assistant manager, Juliet Joslin, who gave birth to their first son, Cal Casblancas in January 2010.
Nikolai Fraiture, the bass guitarist, married his high school sweetheart at the age of 25. He has two children. Lead guitarist, Nick Valensi, married his girlfriend at the age of 25 as well. Like Fraiture, he has two children too. As for Hammond Jr. and Moretti? Moretti has been quoted as saying that he doesn't believe in marriage but is currently in a committed relationship with comedienne, Kristen Wiig of Saturday Night Live fame. Hammond, on the other hand, just got out of a two year long relationship with supermodel Agyness Deyn.
"I never thought I would get married, and definitely not that young," he says. "But she makes me so happy."
When the engagement was first announced, many compared it to the union of Yoko Ono and John Lennon, which made Lennon self-destructive and led to a downfall. However, it was quite the opposite. Julian quit drinking, the music got better and he seemed genuinely happy. Fans rejoiced again!
Fab Moretti, drummer for The Strokes, was once quoted saying, "Julian's only dated two girls...EVER! And he married the second one!" [Julian's father, John Casablancas, has been quoted as saying something similar
here
) while talking about how 'boring' and 'non-rockstar-ish' (as Moretti puts it) the band really is!
"I've been with Juliet since I was 20 or so, I really can't imagine what my life would be without her."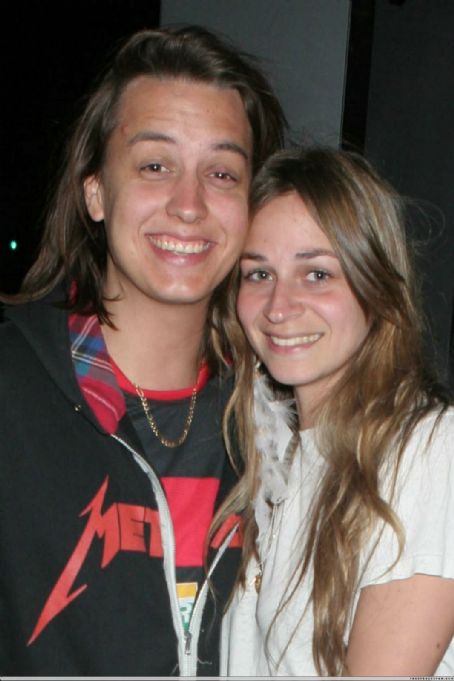 When I ask him about how fatherhood's been going for him so far, a grin bigger than any I've seen on his face in more than ten years occupies his face. "It's the best! I mean, I thought it would be really difficult because you see these children crying for hours at a stretch and their parents struggling to control him, but Cal's so...happy. He's so mellow. He's always smiling and he loves the little dudes (referring to his dogs) and... I just love being around him so much."
Before I can even register what I just heard, Casablancas whips out a photograph of wife, Juliet with Cal and shows it to me (below). This is not typical of Casablancas, who rarely speaks to the media and mostly sticks to one or two line-long answers.
You can see the happiness and pride on his face when he talks about his wife and son. It's almost unreal how happy he looks just to be able to gush about them.
Casablancas' smile is infectious and I find myself smiling adoringly at the picture of little Cal. "Yup, he's talking all right ! He loves talking. He says the most random, adorable things and whenever he says 'mama' or 'dad'..." Casablancas zones out, grinning. "I was really scared I would miss the important things...you know, first words, first smiles or anything because of touring and stuff, it was the one thing that kept me from being excited about touring last year. It's still hard... not being able to see him everyday. Oh god, I feel so lame!" He starts laughing at his own gushing.
Casablancas, who has a Twitter account but doesn't use it much, once tweeted this picture (shown below) of himself with son Cal. "It was his first game! I was just so excited!"
Casablancas and wife, Juliet, have also been spotted around New York City with little Cal walking. "He's only just started properly walking, and he never wants to sit or stand still anymore," Casablancas says, laughing.
While Casablancas seems almost
eager
to talk about his life as a father, his own father is still something of a taboo. Casablancas is the song of probably the most influential man in the fashion world, John Casablancas, who founded Elite Model Management and former Miss Denmark, Jeanette Christiansen. It's widely known that Casablancas and his father have always had something of a strained relationship although they have mended their relationship a little over the last few years. Casablancas has also hinted, on several occasions, that his traits that he isn't too proud of - drinking from a very early age and his temper - were mostly a result of him trying to get his father's attention.
"My father was never much of a father to me and it really f***ed me up. I never want Cal to think of me that way..."
His tone indicates that that is as much as he is willing to say about his father.
Casablancas, however, relaxes much more when the topic of his stepfather, Sam Adoquei is brought up.
"My stepfather saved my life,"
he says, with the same happiness as the one he had when he spoke of Cal and Juliet creeping up on his face. "Sam....he treated - still treats - my mother like the wonderful woman she is and he's such a great artist. He's...he changed my life." Adoquei is also the man responsible for shaping his musical tastes. "My stepdad sent me this tape of The Best of The Doors," he remembers, of his time at a boarding school in Switzerland. "That night I stayed in my room and just played it over and over again. I listened really intensely to every instrument, to every word, to the way the choruses fit and then - poof! - all of a sudden it was like The Matrix . It all fell into place. Sounds kind of corny, I realise, but I knew then how music was built."
Portrait of Julian Casablancas by his stepfather, Samuel Adoquei. This image appears in Adoquei's superb book, Origin of Inspiration. The book is dedicated to Sam's parents and "my dearest Julian Casablancas". In the acknowledgements, he thanks his friends, "guardian angels in disguise, especially Julian." (Julian's mother, Jeanette Christjansen, is also mentioned.)
"He'd laugh if he heard me say it, but he's the reason that I'm talking to you in this hotel room. He's the reason why we're successful. From the beginning he gave it all to me. Talking to me for hours about art. About lazy artists. About how hard you have to work, study, want it. There's no way I can summarise four years of education. I learned zero at school and learned everything at home."
Casablancas' reverence for his stepfather is not unknown. He once tweeted:
And on this happy note, we part. He hugs me goodbye and tells me how much fun he had just talking to me and walks away. I stand there for a minute looking back at the man who is responsible for not only resurrecting rock and roll, but also for putting the children of leather jacket makers through college walk away slowly, happily and it's perfectly clear to me, in that moment, why everyone still loves The Strokes 10 years later.